Cement truck arrived and the pour began. Rebar and WWM were lifted up into the cement as it was placed.
Pulling up the WWM and adjusting the height of the screed banks.
The cement is all in place. Now it just has to cure for a few hours before it can be troweled.
Here two workers are troweling. One is doing the large area with the power trowel and the other is doing some
hand troweling around the anchor bolts.
Cutting away some cement and troweling to allow for an apron to enter the garage. This effectively puts
the exterior grade lower than the garage slab, keeping rain and snow a bit lower than the garage slab.
Another round of the power trowels.
Some final touches with the hand and power trowels.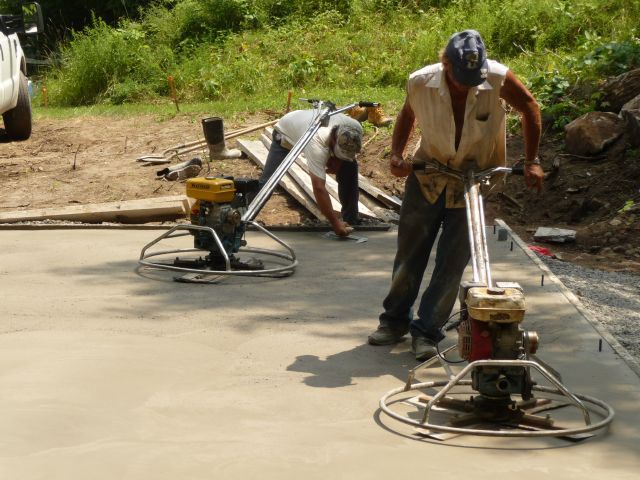 Spraying on the sealer and hardener. This protects the cement while it cures into concrete and retards the 
evaporation of water, during hydrolysis.
A few days later, the control joints are saw cut into the slab. These are to help control any cracking that
typically occurs with slab construction by giving the stresses a "weak" point to focus on.
This is the end of the cement work! Next is the
framing
phase.